For our Nemo Halloween House we wanted to have a school of moonfish—you know, the group of silvery fish that form themselves into various shapes to help Dory and Marlin on their journey.  But how could we do it?
I explored purchasing lots of small plastic fish, but Michelle (expert shopper and financial overseer of our little endeavor) said that it would not be cost effective to do that.  Instead, she suggested that we make them ourselves.  So, here is how we did it.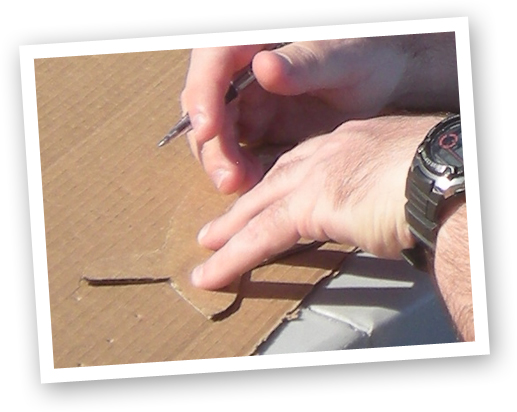 First, we made a pattern.  On our first Community Build Day, Mr. Keith Blumenthal traced the pattern onto cardboard and cut them out.  By carefully arranging the patterns, he was able to get about 55 fish out of the piece of cardboard we had.  Keith took one for the team and smiled through the pain of a cardboard and scissor induced hand cramp.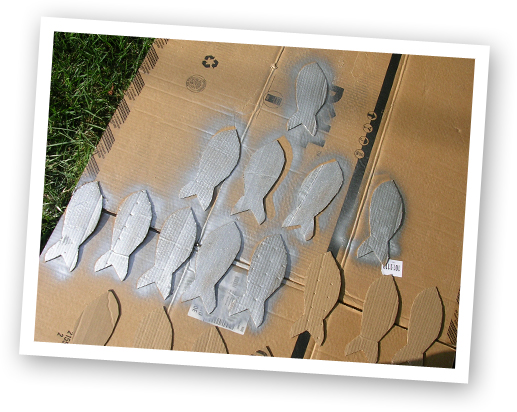 Next, we painted the fish silver.  Using some silver spray paint we coated one side of the fish with paint and let them dry.  We did this on a fairly warm day which meant that the paint dried quickly.  Soon, we had a whole school of silvery fish.  Total expense so far = $0, as I already had the cardboard and the silver spray paint.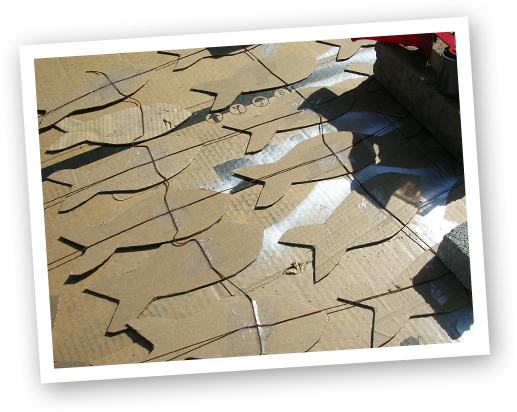 On our second Community Build Day, Dave Vaillancourt took on the challenge of arranging the fish into our pre-determined pattern: an arrow.  He devised a clever way of connecting them using string and packing tape.  He laid the fish out in the pattern, put string across them and taped that string down.  Then, he added more string perpendicular to the first group of string to keep them in formation.
Finally, in order to have this school of fish travel together, Dave connected the strings to a long PVC pipe (which we removed from our backyard a few months ago).  When it comes time for us to put this up for Halloween, the PVC pipe will be tucked into our hedge and it will look like there is a group of floating moonfish pointing the way toward Nemo.
Total cost = $0.
Value of final product and the hard work and dedication of those who built it = priceless.
Thanks Keith and Dave!