What a night!  This year's Albertson Halloween House was a community effort, from construction to Halloween night.  Over 800 trick-or-treaters plus their family and friends descended upon the streets of Mos Eisley to experience this year's theme: Star Wars—Planet of Tatooine.  Here are some photographs from the evening.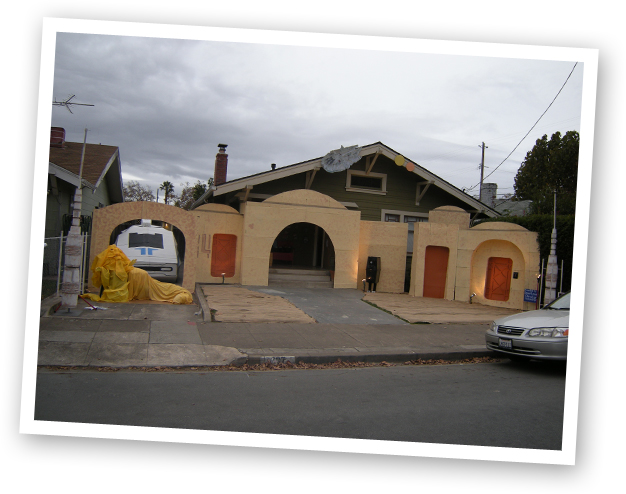 The House is ready, complete with twin suns, escaping Millenium Falcon, Star Tours, Jabba, Docking Bay 94, a gonk droid, moisture vaporators and burlap "sand."  Can you spot the hidden Mickey?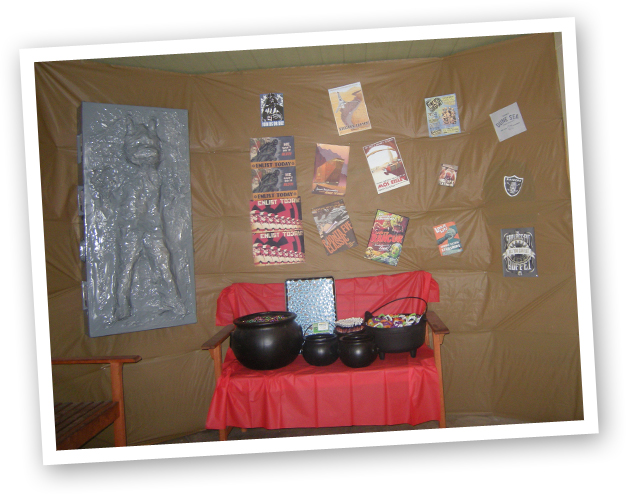 Ready for visitors!  Poised for delivery to trick-or-treaters are Star Wars pencils, Star Wars magnets, bouncy balls, fangs, Mardi Gras necklaces and coupons for free video games (Plants vs. Zombies!).  In addition to treats, the porch boasted local Tatooine flyers as well as some of Jabba's trophies: the head of a Mon Calamari, the head of C3P0 and Jar Jar in carbonite.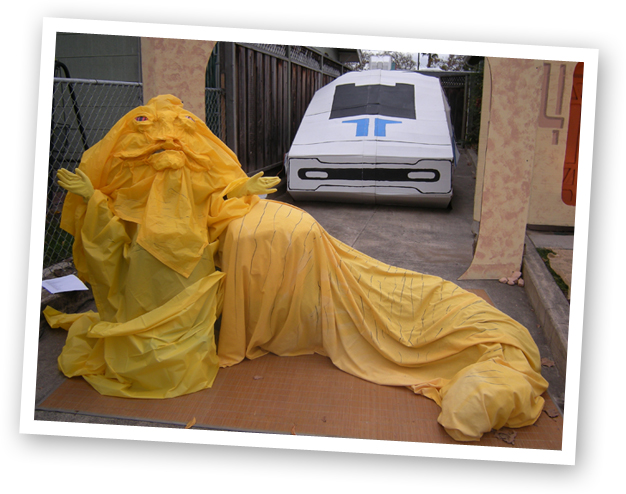 Created and operated by our very own Bich Hamilton, Jabba welcomed visitors by speaking Huttese.  Behind Jabba, our minivan, dressed as Star Tours, sits in Docking Bay 94.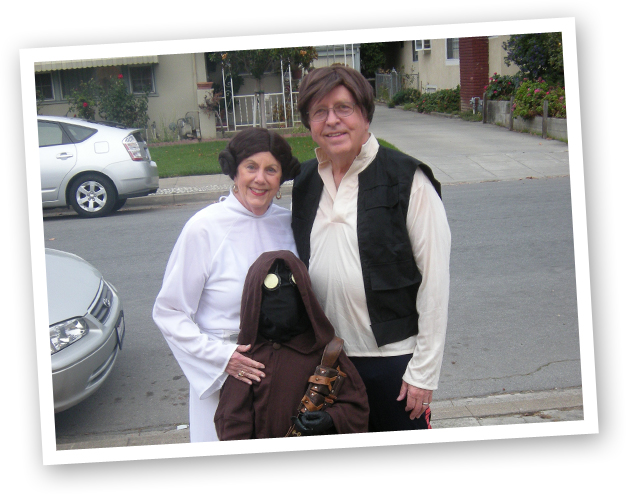 Always ready for action, Princess Leia and Han Solo arrive to man the porch and take a quick picture with their grandaughter-Jawa (Grace!)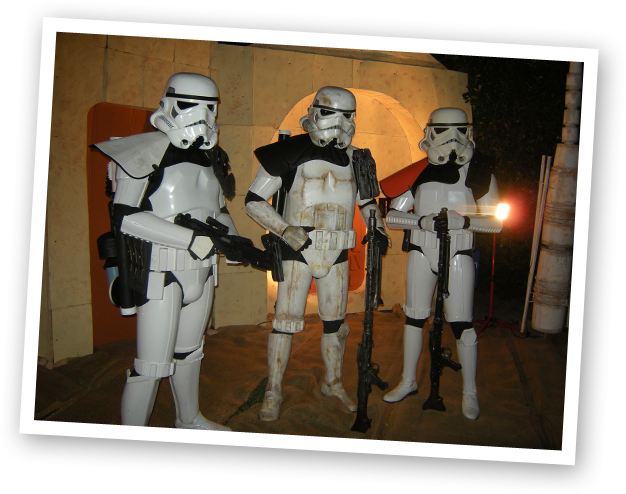 In order to keep the peace, Imperial Sandtroopers were called in.  TD-3942, TD-3390 and TD-520 (Eric) from the 501st's Golden Gate Garrison survey the scene, keeping an eye out for missing droids.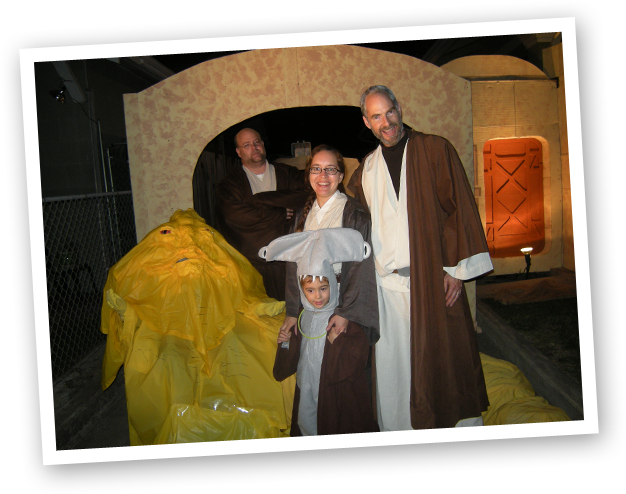 Guardians of peace and justice in the republic, Jedi (including one from a shark planet) confer with Jabba.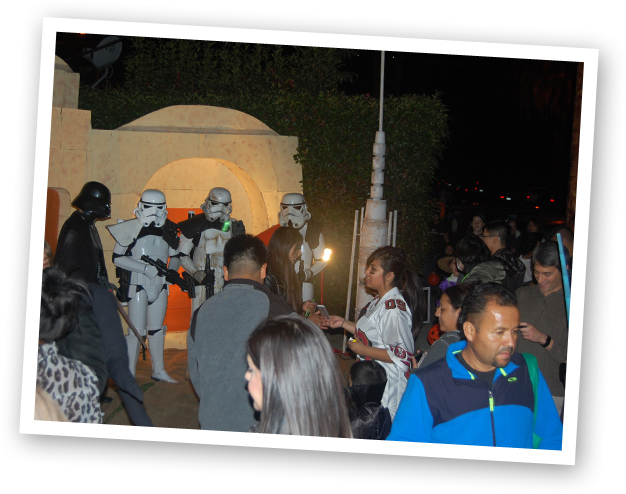 Crowds showed up to enjoy the Star Wars atmosphere and to snap a picture or two with their favorite character.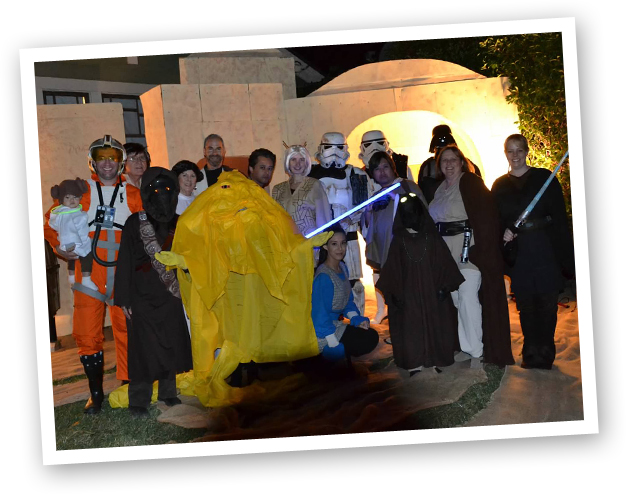 Close to 20 costumed characters helped to make the scene come alive!  Thanks to family, friends, co-workers, the Rebel Legion, the Golden Gate Garrison who made sure each visitor had a memorable night!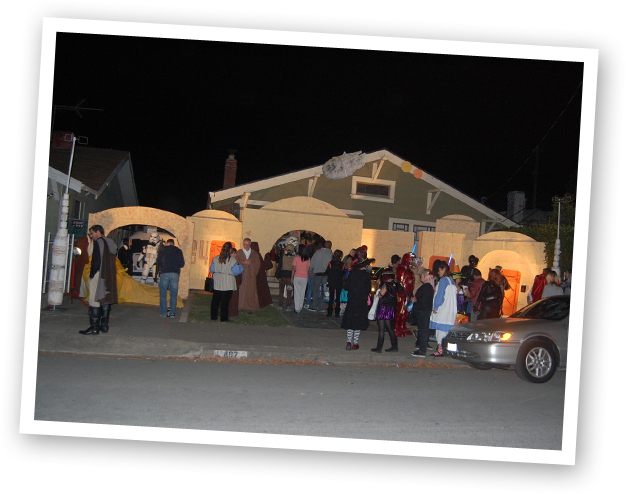 Here is a shot of the Halloween House at night.  As you might expect, you never know who you will run into in Mos Eisley.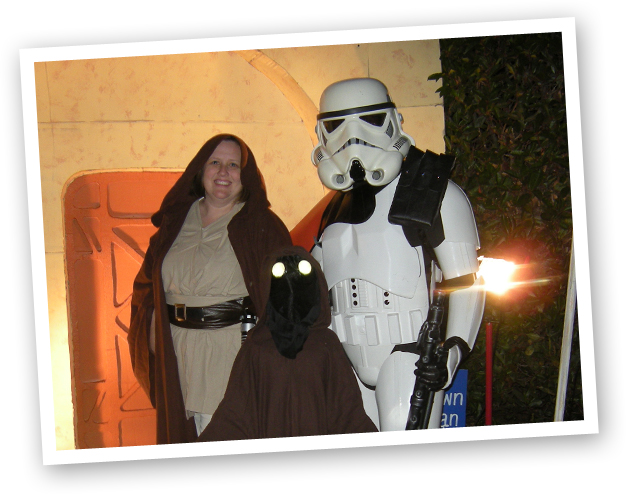 Here is the Star Wars family themselves—Jedi Michelle, TK-520 Eric and Jawa Grace.
Overall, it was a memorable evening with visitors—young and old alike—enjoying the chance to spend a few moments in the Star Wars universe.  The Force was strong that night and and I believe it will be a memory that will be with me "always."
Photos by Eric Albertson, Michelle Albertson, Eric Kanemoto, Garrett and Amy Girard.