Come to Hogwarts School of Witchcraft and Wizardry on Halloween! The Albertson Halloween House is open on Halloween Night, Monday, October 31st, from 6:00 pm – 9:00 pm.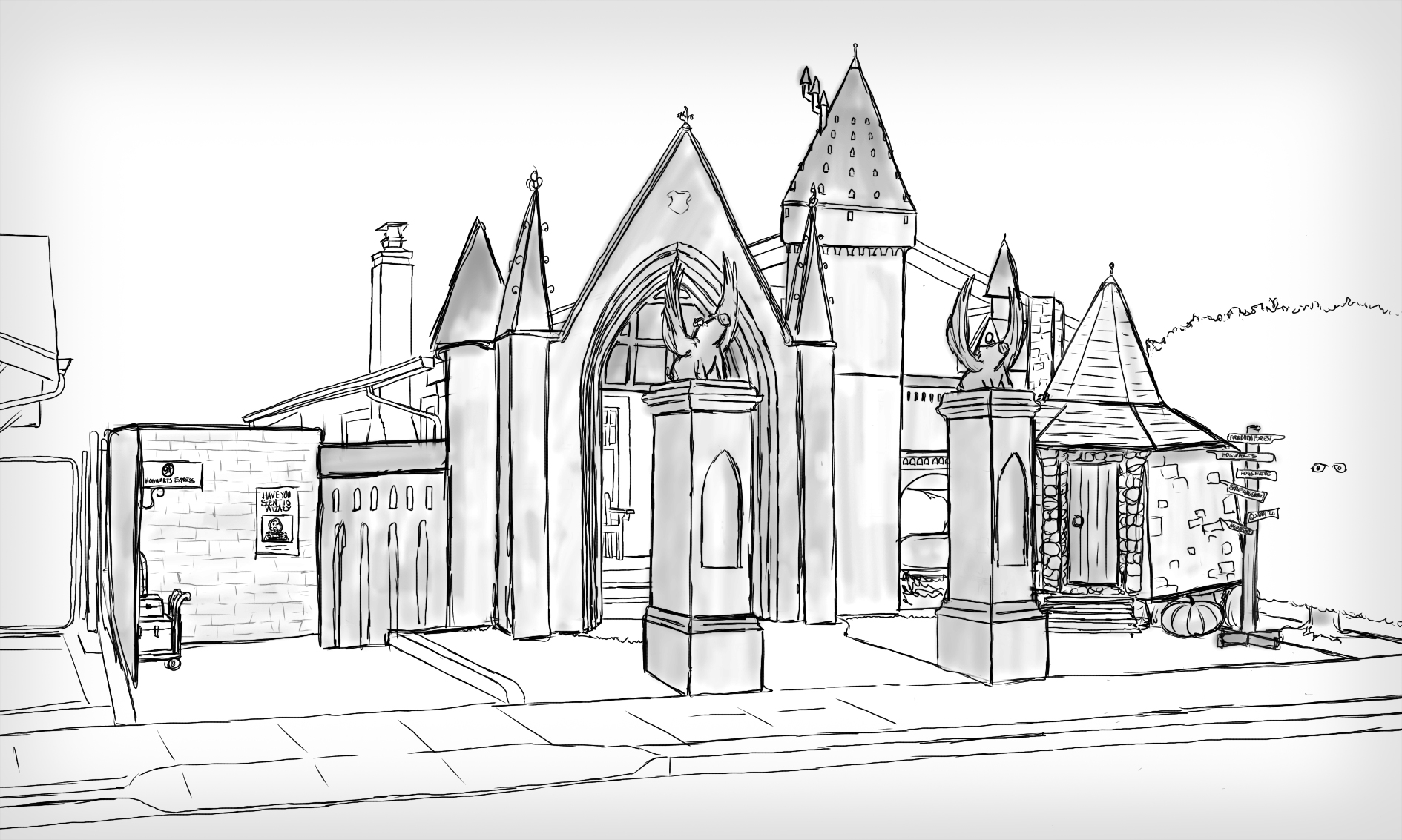 Walk past Hagrid's hut and Platform 9 3/4 into the grounds of a 22 ft high Hogwarts School of Witchcraft and Wizardry. Over 20 cosplayers, embodying Hogwarts teachers, students and other characters from the wizarding world, will greet visitors and help to make this an unforgettable, immersive experience. In addition, there will be a photo op (at Platform 9 3/4) where you can snap a photo as they push a trunk-laden cart 'through' the barrier), portraits that move, a giant spider, and more.
In addition to the immersive scene, the house will feature several augmented reality experiences. Using Aurasma (free app that enables augmented reality on iPhone, Android, etc.) items viewed through the app will come to life. Examples include: "Support Cedric" buttons which animate to say "Potter Stinks!", wanted posters with pictures which come to life, and Moaning Myrtle materializing and saying hello. For more information and instructions for how to access those experiences through your phone, see this blog post:
http://www.albertzone.com/ halloween/2016/10/app-enabled- magic-on-halloween/
You Tube Video with instructions:
https://www.youtube.com/watch? v=A8Vc8hUDqHg
Check back on the Albertson Halloween House site the day of for a complete list of auras that will be available.
Visitors are also encouraged to utilize the app HP Spells which turns a phone into a wand. This free app allows you to learn the wrist movement for Harry Potter spells and even duel with a friend.
The house is created by the community (neighbors, co-workers, school friends and more) in the Northside neighborhood in San Jose, having been a regular Halloween favorite for 15 years. The house is built using recycled or donated materials and welcomes 800-1200 trick-or-treaters each year. The Albertson Halloween House is also are a glow necklace distribution house to help kids remain safe on Halloween.
Facebook Event Page:
https://www.facebook.com/ events/1603549816607545/
Event Website:
http://www.albertzone.com/ halloween/
Date and Time:
Monday, October 31st
6:00 pm – 9:00 pm
Location:
The Albertson Halloween House
497 North 16th Street
San Jose, CA 95112
(Map: http://www.albertzone. com/halloween/contact-us/)
Cosplayers to look for on site:
Hogwarts Students – Harry Potter, Hermione, Ron Weasley, Luna Lovegood, Cho Chang, Hufflepuff Quidditch Player, and more
Hogwarts Professors – Professor Dumbledore, Professor Snape, Hagrid, Professor Umbridge, Professor McGonagall, Professor Slughorn, Mad Eye Moody, Other Professors
Others – Mrs. Weasley, baby Harry Potter, Quidditch fans
Special Guests:
The South Bay Blazers (San Jose's local Quidditch team) said they would make an appearance!
https://www.facebook.com/ SouthBayBlazers/
Keep an eye out for magical items (can you spot them all?):
Horcruxes – (all of them) Tom Marvolo's ring, Ravenclaw's diadem, Hufflepuff's cup, Slytherin's locket, Tom Riddle's diary, (Harry Potter), Nagini (available via Aurasma)
Treasures – The Tri-Wizard Cup, the Sword of Gryffindor, the Sorting Hat
Other Items – Moving portraits, floating candles, potions from Snape and Professor Slughorn's stock, Dumbledore's penseive (complete with case for storing vialed memories), Gillywater, Chocoloate Frog, etc.
We would love to see you on Halloween!  Come on by!