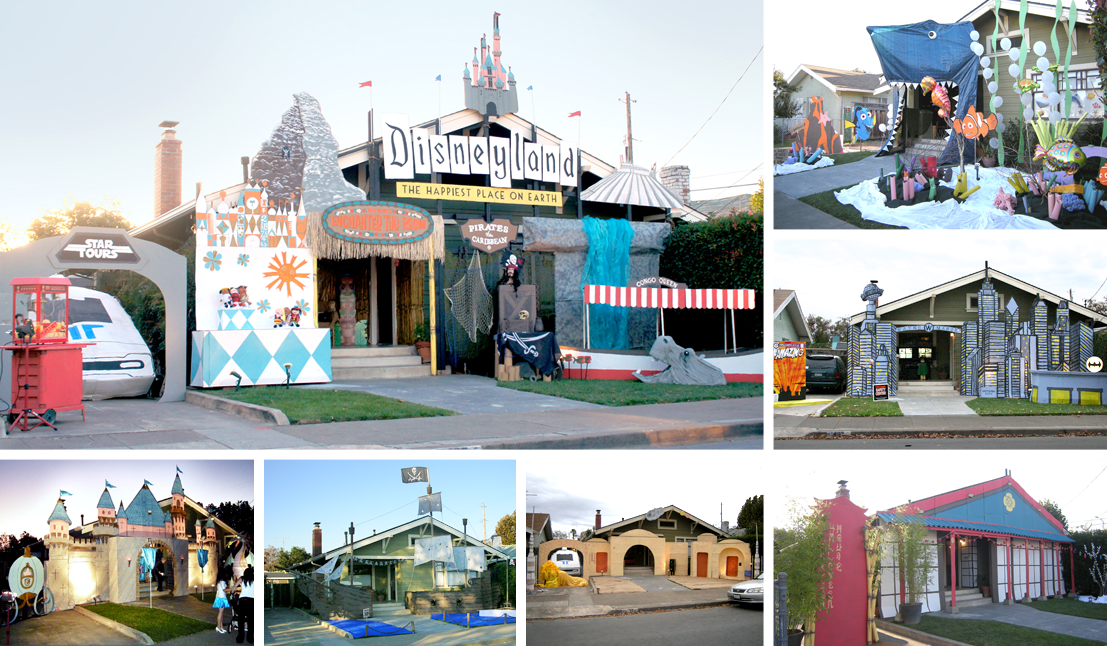 For most of the year, the green house at 497 North 16th Street, in San Jose, California, does not draw any special attention to itself.  But on Halloween night, the front of the Craftsman-style house is transformed into a magical scene where hundreds of kids not only get treats, but also get treated to an experience they will never forget.  Visitors are greeted by costumed characters, invited to choose treasures, and given an opportunity to have their picture taken to remember the evening. Whether there's a twenty-five foot high pirate ship, a quarter-scale AT-ST from Star Wars or a Disney Princess Castle, the Albertson Halloween House always delivers an unforgettable experience.  Since their first themed house in 2002, the Albertson Halloween House has become a must-visit destination for kids of all ages on Halloween night.
Meet the Albertsons
The Albertson Halloween House is a project that is brought to life by the owners of the house, Eric and Michelle Albertson and their daughter, Grace.  Eric, Michelle and Grace are passionate about Halloween, not only because they love creating fun, immersive experiences for others but because they also love to dress up in costumes!  While other Halloween houses focus on the more traditional Halloween themes of ghosts, ghouls and scary imagery, Eric, Michelle and Grace take a family-friendly approach, often basing their themes on a current movie or a classic tale that kids (and adults) can relate to.
Eric is a graduate of Cal Poly, where he earned a degree in Mechanical Engineering and a got a minor in Theatre. He currently works as a graphic designer in Sunnyvale, CA at Duarte.  Michelle is also a Cal Poly graduate and CPA who works as a Corporate Controller. Grace is a middle school student in San Jose.
The Process
The process begins about a year ahead of time (so that we can take advantage of after-Halloween sales).  Eric proposes layout ideas to Michelle and Grace and then, from there, develops the design of the house which is then translated into building plans.  In the months before Halloween, Eric locates materials, builds the understructure and designs the rest of the experience.  Volunteers meet together to paint the façade.  Eric sets up the house usually a day or two before Halloween (to keep it a surprise!).  Michelle coordinates the acquisition of themed toys, works with the city to arrange for glow necklaces and keeps an eye on the budget.  Grace helps out with painting days, design discussions and other projects for the house.
As Inexpensive as Possible
We make it a point to see how little we can spend each year.  We do this by trying to utilize materials that others throw away or no longer want.  We have developed friendships with bike stores who are happy to send their empty bike boxes with us instead of having to break them down themselves.  Carpet stores have likewise been very generous with their cardboard tubes, which, incidentally, make great pirate ship masts.  We also have been fortunate to meet other people who have excess cardboard (such as our friend who knows people at a cabinet factory), IT folks who are looking for someone to take old, but working monitors and co-workers who have access to to-be-disposed-of packaging material that could be repurposed for good.  We use up extra building materials and paint from projects during the year and scour swap meets, thrift stores and yard sales for rare and inexpensive props.
Reduce, Reuse, Recycle
We do all we can to keep our Halloween House as friendly to the environment as it is to the trick-or-treaters who come to visit it.  To do that we reuse items from year to year, including lights, props and even screws!  The façade understructure comes apart and can be stored for reuse the next year.  We are often finding creative ways to incorporate pieces from previous years into the current year's theme.  We use cardboard for the house which is recycled each year after Halloween.  Green isn't just the color of the exterior of the house.  It is also part of the philosophy of the Albertson Halloween House.
No Candy
What?  That's right.  You would think that with so many trick-or-treaters we would have to give out candy.  But, in fact the opposite is true.  It is actually less expensive to buy themed toys for the kids than to purchase candy in that volume.  Kids love it.  They get to walk away with two to three toys, which might include a compass, a pencil, a beaded necklace or some other toy based on that year's theme.
A Safe Place
A few years ago, we got to become part of the San Jose Safe from the Start program, which provides glow necklaces to trick-or-treaters on Halloween night to keep kids safe as they walk around the neighborhood.  As a designated glow necklace distribution house, we give out glow necklaces to kids who come to the house.  So, in addition to the the toys they get, kids get a fun costume accessory that also keeps them safe.
It Takes a Village
We have a community work day every year where our friends in the community come out to help paint.  Whether it is a pirate ship, a castle or the Gotham City skyline, adults and kids alike get to help bring the house to life.  Many of these same friends end up volunteering as costumed characters on Halloween night to help welcome guests to the house.  Thanks to everyone who has pitched in and leant a hand!
Come On By!
We create the Albertson Halloween House because we want people to have as much fun at Halloween as we do.  So, come on by!  We'd love to see you!