Community Painting Days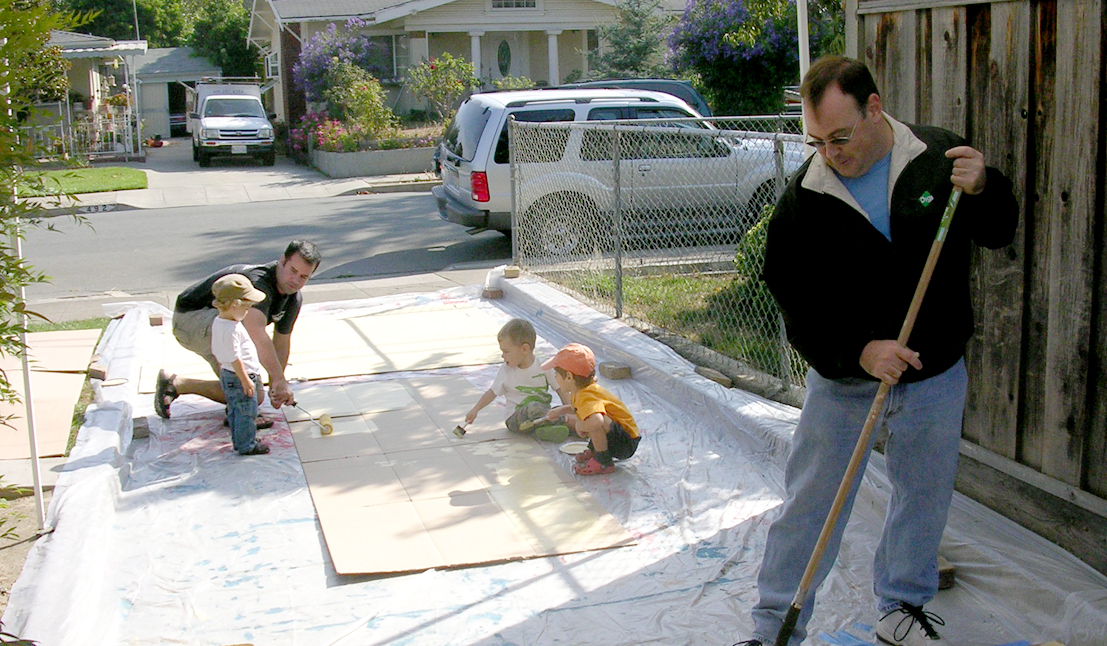 Handy with a paintbrush?  Come be a part of the Albertson Halloween House Community Painting Days!  We take all ages (young kids need to bring a parent along) and skill levels (if you can hold a brush, we want you!).  Come on by!  
The address is 497 North 16th Street in San Jose, CA (95112). Wear some clothes you wouldn't mind getting dirty.  If you plan to come, let us know so that we can make sure there are enough snacks!
Upcoming Community Painting Days—
Saturday, October 21st
9:00 am–12:00 pm
Items We Are Looking For
We are always keeping an eye out for items for the house.  If you happen to have any of the items below and are willing to donate to the cause, let us know!  Your name will be added to the Super Awesome Donor list below and kids in San Jose will have an even funner(!) Halloween thanks to you.
Plastic cake covers (short, round with a flat top) (1–6)
Small rectangular plastic Tupperware containers (2–12)
Used backpacks (Could be school backpacks or adult sizes. They will be taken a part so worn, old or torn ones are OK) (1–6)
Super Awesome Donors
Below is a list of people who have generously contributed items to the Albertson Halloween House over the years.  Whether it is spare boxes, leftover Styrofoam or even computer equipment, the house wouldn't be the same without your donations.  Thanks so much!
Michelle Albertson
Darryl and Karen Albertson
Kathleen Myers
ResponseLink
Mark and Nancy Duarte, M, Carol, Terri, Trish, Diandra and Ryan O. from Duarte, Inc.
Brian Zailer
Keith Blumenthal
Rick Schertle
Julie Stone
Jill and Seth Martin
Prev and Jose Bañuelos
Erin ('Roos') and Shayley
Daniel Peralez
Steve Wishman
Jack Ogden
Dan Gard
Liz Kowalski
Sonya Lu and Jeremy Plunkett
Campway's
Michele Karg
Kerry Greene
Viking Door
Steve Aviles
Cindie Davis
Maria Fristroem
Shelly Glennon
Dave Nguyen
Jonathan Valiente
Jasper Hiatt
Rich Medley and Louise DuCray
Home Depot
Alex Arellano
Joe Perez
Ian and Renee Shaeffer
Tram Nguyen
Ramblewood Elementary School
Volunteers
The following is a list of people who have made it all happen.  They have helped paint, taken pictures, prayed, dressed up as costumed characters, handed out candy, directed traffic, kept an eye on youngsters—sometimes all at the same time.  Thanks for your willingness to be a part of the magic!
Michelle and Grace Albertson
Bich, Brian, Chris and Michael Hamilton and Victoria
Kristin Erickson
Brendan, Bethany and Owen Lewis
Jim, Julie and Emma Somer/Stone
Keith Blumenthal
Gary, Polly and Trent Classen
Curtis, Jody, Mei-Mei and Ellie Chang
Gilles, Jill, Conor and Nathaniel Bekaert
Garrett, Amy, Mia and Mikayla Girard
Eric, Kristina, Ryan and Emi Kanemoto
Randy, Lori, Riley, Tatum and Abigail Lexvold
Steve, Meredith and Keira Harmon
Kathleen Myers
Darryl and Karen Albertson
Ross and Jay McKenzie
Scott, Aimee, Alaina, Marin and Maya Heeren
Rick, Angie, Kelly and Micah Schertle
Anh, Natasha and Mila
Dave Vaillancourt
Kristy Fong
Eric Woo
Liz and Cami Kowalski
Prev and José Bañuelos

Hamad Alfehaid

Debbie and Logan Drummond

Monica and Juliana Montaño and Melina Mo'okini

Mark and Karen Phillips

Carol Miller

Doug Neff and Corey Rothermel

Sarah, Chris, Eli and Fin Bogosian

Shinya and Dakota Goto

Ashley and Matt Faus

Ian, Renee, Kaitlyn and Caleb Shaeffer

Shelly Glennon

Theresa Nguyen and John Nguyen

Laura Wall-Klieves and Will Klieves
Hannah Faye Chua
Lily Gruenke
Chariti, Liam and Sullivan Canny
Tram Nguyen
Diandra, Justice and Noah Macias with Marisa
Mary-Anne Reyes
Thuha Cao and Alan Bui
Jack Ogden and Emily Koda
Thuy Anh Tran
…and more!*
If you are interested in helping, you are always welcome!  See our above for upcoming opportunities.
* (if for some reason I neglected to include your name, please gently remind me and I will rectify the situation)