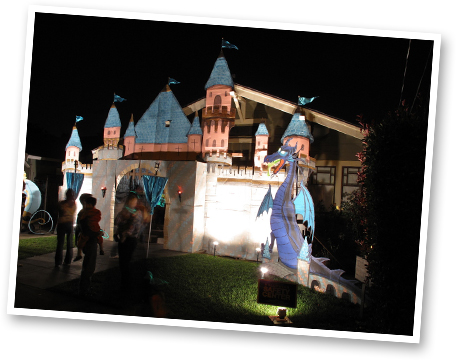 A magical time was had by all!  Visitors to the Albertson Halloween House were welcomed to Sleeping Beauty's Castle, complete with a fire-breathing dragon, Cinderella's carriage and host of costumed characters, including Prince Phillip, Maleficent, Sleeping Beauty, King Hubert, Queen Huberta, Young Prince Phillip, Fairy Godmothers and many more!
Trick-or-treaters got a chance to walk up into the castle where they got to choose treasures from the royal storehouse while viewing precious princess treasures—Cinderella's glass slipper, Snow White's poison apple, Aladdin's lamp, Ariel's shell, the rose from Beauty and the Beast, Sleeping Beauty's spinning wheel and even a talking magic mirror!
We had about 700+ trick-or-treaters, not to mention the families and friends who accompanied them.  Thanks to everyone who helped bring Sleeping Beauty's castle to life!
Photo by Matt Bruensteiner